There are lots of soaps and shower gels out there but if you're looking for natural products, I'd like to share the best natural soaps and shower gels with you. These are luxurious, safe, and fit into your cleaner lifestyle. Discover your happy place. Your soap can create your zen in the shower (or bath).
The ultimate thing to do would be to make your own soap, but that is a complicated and somewhat hazardous process, working with lye and so on. There is a method of soap making where you don't have to handle the lye directly. I'll get into that in a future article.
If you find it easier to just buy natural soaps or don't have time to make them yourself, you can choose from some companies that even hand-make them for you.
Natural, artisan soaps also make beautiful and thoughtful gifts. Your friends or family would love receiving natural, elegant, and beautiful soaps or shower gels that smell heavenly. But hey, treat yourself too. You deserve it. Let's get to the list.
The Handmade Soap Company – Ireland
Since our products are made by hand, we know exactly what goes into each one. Because we put it there ourselves. Each ingredient is carefully chosen to deliver the best possible results. What we leave out is as important as what we leave in. We want you to know exactly what we're made of.
We go to great lengths to make sure that our raw ingredients, packaging, and processes are as kind to the environment as they are to your skin.
Let's start with a beautiful bar soap infused with Lemongrass and Cedarwood oils.
Made with love, from nature, in our factory in Ireland.

Lemongrass and Cedarwood Bar Soap
Handmade the traditional way using cold-press soap-making methods. The zesty freshness of lemongrass is balanced with exotic cedarwood in a gorgeous traditional soap that gently cares for hands.
Grapefruit & May Chang Shower Gel
For lovers of natural scents, and silky smooth skins. For mornings and evenings (and any time in between) – this shower gel makes skin feel fresh and pampered.
Beautiful fresh fragrance.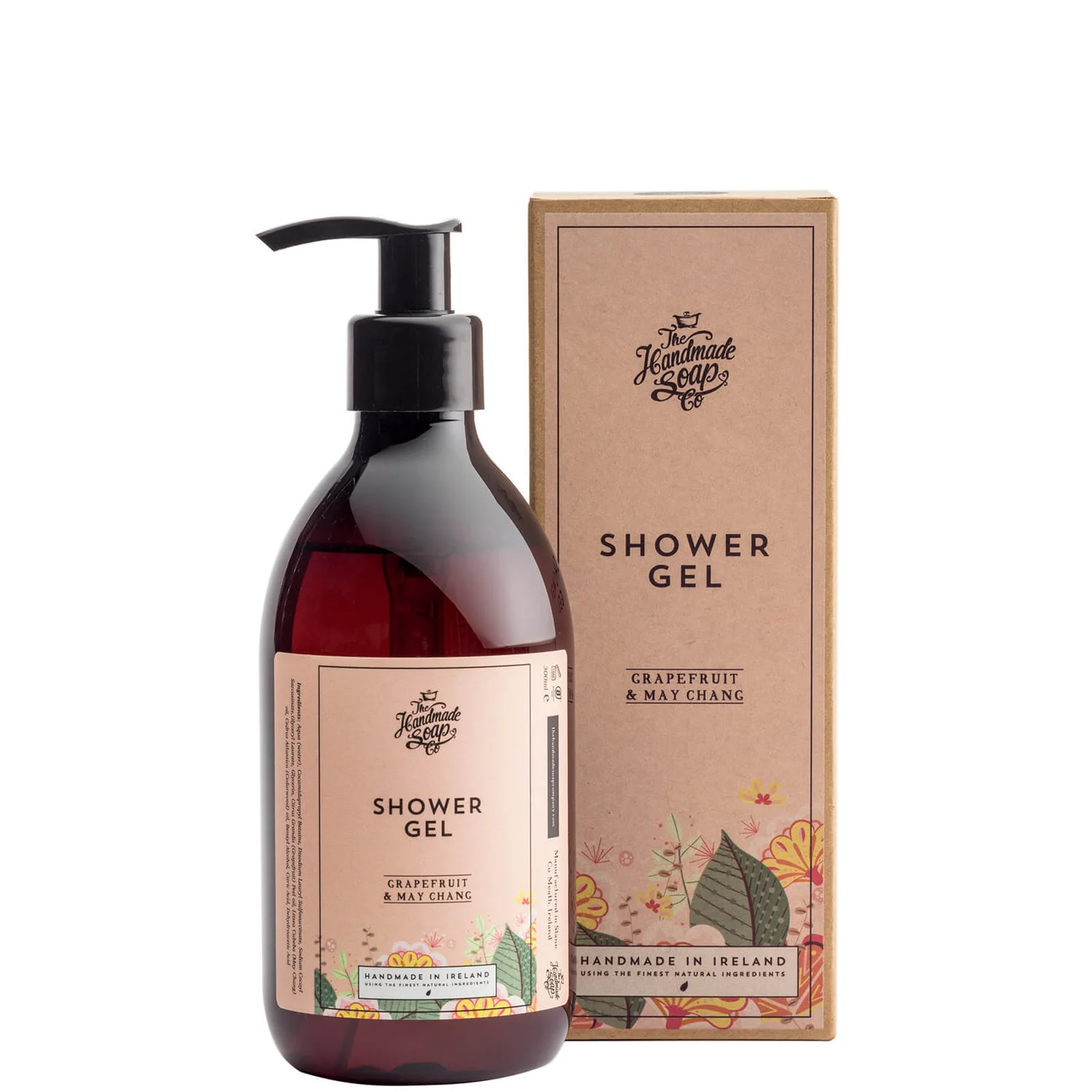 100% Pure Soaps & Shower Gels
All 100% PURE™ formulations adhere to strict purity standards and will never contain harsh or toxic ingredients. How We Define Natural: An ingredient or formula composed of plant, mineral, and/or marine vegetation that undergoes chemical changes due to biological processes such as fermentation, distillation, and cold processing.
Blood Orange Shower Gel
The amazing scent of blood orange in a richly foaming gel leaves you feeling super clean and moisturized. I love the moisturizing properties of this shower gel. You can try a sample through the button below. I did and was hooked.
Blood Orange Shower Gel – 16 oz
Richly foaming shower gel lifts away dirt, oil, and impurities while rehydrating thirst… [More]
Mango Butter Soap
Triple-milled vegetable soap made with shea butter, olive oil, and coconut oil to gently cleanse while deeply moisturizing for soft, supple skin.
Infused with the scent of mango, this natural soap is made with shea butter, rich coconut oil, and silky smooth olive oil.
100% Pure Mango Butter Soap
Triple milled vegetable soap made with shea butter, olive oil, and coconut oil to gentl… [More]
Dr. Bronner's Pure-Castile Soaps
Dr. Bronner has been making natural, organic soaps since 1858. Completely natural, vegan, and organic ingredients go into their soaps.
Our Pure-Castile Bar Soap is made with plant-based ingredients you can pronounce—no synthetic preservatives, thickeners, or foaming agents—good for the environment and great for your skin! MADE WITH ORGANIC OILS THAT ARE GENTLE and EFFECTIVE: We don't add any chelating agents, dyes, whiteners, or synthetic fragrances—only all-natural, vegan ingredients that are gentle, effective, and mild. Use on your face, body, or hair!
Dr. Bronner's – Pure-Castile Bar Soap
 Dr. Bronner's Pure-Castile Bar Soaps are made with organic oils that are gentle & effective. The variety pack includes 6 scents: Almond, Baby Unscented, Lavender, Peppermint, Citrus & Rose (5 ounces per bar).
Our bar soaps are fully biodegradable and use all-natural, vegan ingredients that pose no threat to the environment. Our products and ingredients are never tested on animals and are cruelty-free.
The reviews say it all. Check this out.
Dr. Bronner's – Liquid Castile Soap – For Everything
GOOD FOR YOUR BODY & THE PLANET: Dr. Bronner's liquid soaps are fully biodegradable & use all-natural, vegan ingredients that pose no threat to the environment. Our products & ingredients are never tested on animals & are cruelty-free.
3X MORE CONCENTRATED THAN MOST LIQUID SOAPS: Dilute! Dilute! Multiple uses for just one product: laundry, mopping, hand-washing dishes, all-purpose cleaning, washing pets & more. More soap per bottle means less waste in packaging!
A simple castile soap you can use for everything!
Nubian Heritage African Black Bar Soap
Detoxing and balancing. For blemished, oily, or uneven skin.
African Black Bar Soap
African Black Soap made from palm ash tamarind extract and plantain peel has been used in Africa for centuries to treat eczema blemishes and oily skin. Shea butter rich in vitamins and skin softening fatty acids has been a staple of African pharmacology since the days of the Shea butter caravans of Cleopatra's Egypt.
Cultural Healing Nubian Heritage's innovative concept melds native ingredients and healing philosophies drawn from African, Hispanic, Indian, and Asian cultures with the modern demand for effective natural and organic products.
Through an authentic cultural experience, Nubian Heritage products address the unique skin and hair care needs of all ethnicities.
Wrapping Up
I hope you enjoyed finding these beautiful natural and organic soaps. It is so satisfying to use natural soaps and enjoy the amazing scents some of them have. What you put on your skin does go in. Be finicky about the products you use on your skin.
If you have any comments or questions, please leave them in the Comments section below. Thank you!